The annual Christmas season is approaching in this season of joy, festivity and fashion! I believe you should have received many party invitations, it's time to step up your holiday fashion game!. Maybe it's an invitation from a colleague off work, a kind invitation from a long-time friend, or a long-lost family gathering. While you may have your ugly Christmas sweater and Santa hat ready, have you thought about the perfect boots to complete your festive look? Your attire should lack a pair of party shoes to complete your look.
1. The Classic Knee High Leather Boot
Classic Elegance! If you're having a gorgeous Christmas party then a pair of classic knee-high leather boots is a must. These shoes feature a slim heel design with a pointed toe and faux crocodile finish for added sophistication.If you're after an alluring and textured look, this glamorous shoe will be perfect for you. It allows you to create a striking style with ease, and no one can resist the glamour and allure of your beauty. 


It can be paired with your mini skirts and v-neck jumpers to make you the life of the party inadvertently!
In addition to brown there are also black, white and many other colours to choose from.

2. Cozy  Suede Boots for a Winter Wonderland
When the snow starts falling, it's time to embrace the winter wonderland.  If you want to add a touch of luxury to your wardrobe then cozy  suede faux fur boots are a great option to add an element of glamour to your outfit. Keep your feet warm and toasty with a pair of suede boots. If you want to match your fawn outfit then these light tan coloured boots will not only keep your feet warm but its slim heel will also make your look look chic and elegant.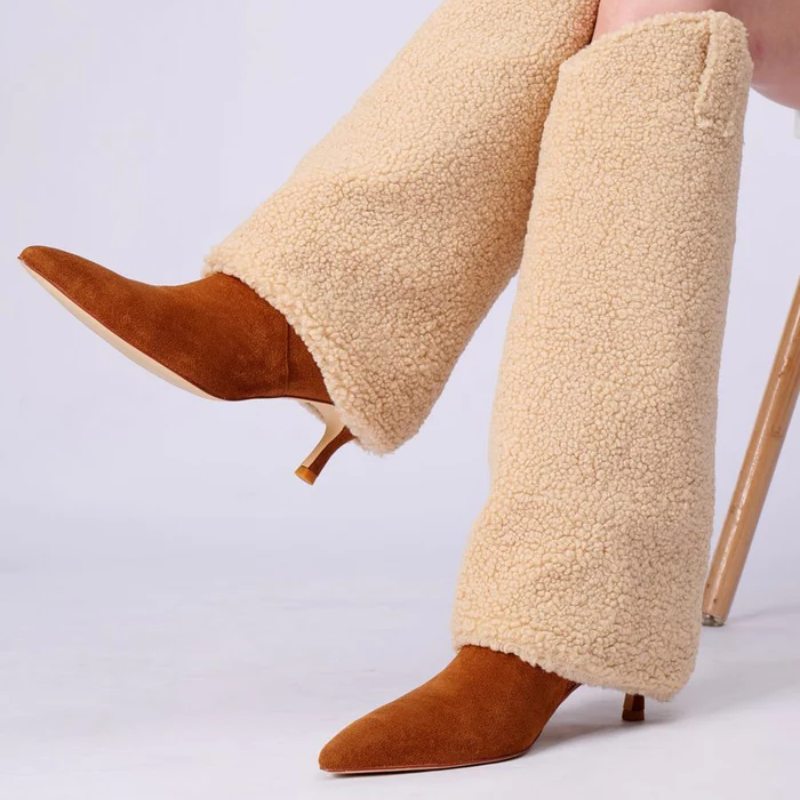 Whether you're building a snowman or sipping hot cocoa by the fireplace, these boots will keep you comfortable and stylish throughout the day.Apart from this, you can also pair them with skinny jeans and thick jumpers for a cosy and stylish winter look.
3. Gorgeous Metallic Boots
Want to add some height and attitude to your nighttime party attire? Metallic shine boots are the answer. It will give you give you that extra boost of confidence if you're meeting your friends for a pub bash one night. With a glamorous metallic sheen, a bold design and a comfortable heel, these boots are perfect for those who want to make a statement.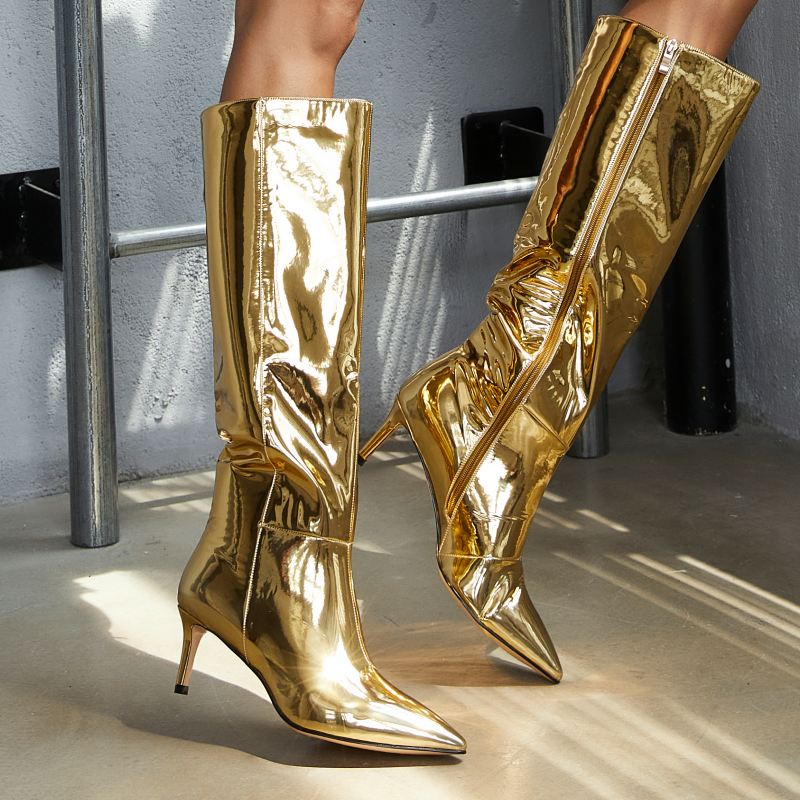 Choose it to kick off your night out! 
4. The Ankle Boot for a Casual Gathering
Maybe your Christmas requires running errands or going to the fair to buy things and you just want to dress down, then ankle boots are a must-have to keep you comfortable and stylish all day long. A pair of black ankle boots is an essential shoe for every woman, they are versatile and easy to wear with jeans, skirts or dresses for a chic look.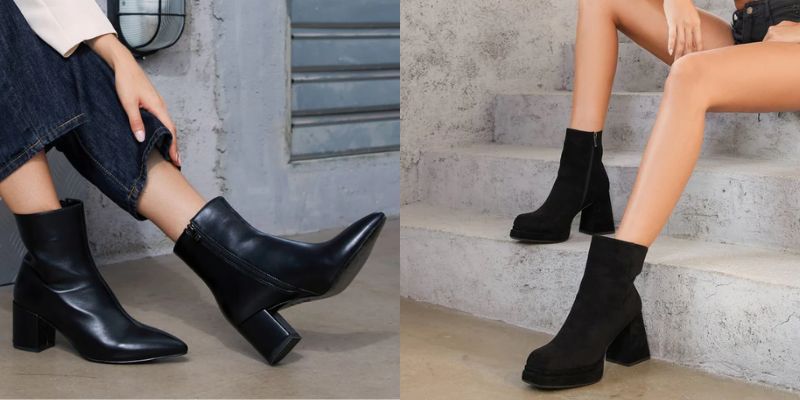 Choose a pair of smooth leather or suede ankle boots this Christmas and pair them with an oversized jumper to welcome the new year with a more casual look.
5. Festive Red Boots
What better way to get into the Christmas spirit than with a pair of festive red boots? Red is a bold and striking colour and pairing it with your red Christmas outfit will turn heads. Or pair it with a black dress or jeans and a cosy jumper for a chic festive outfit.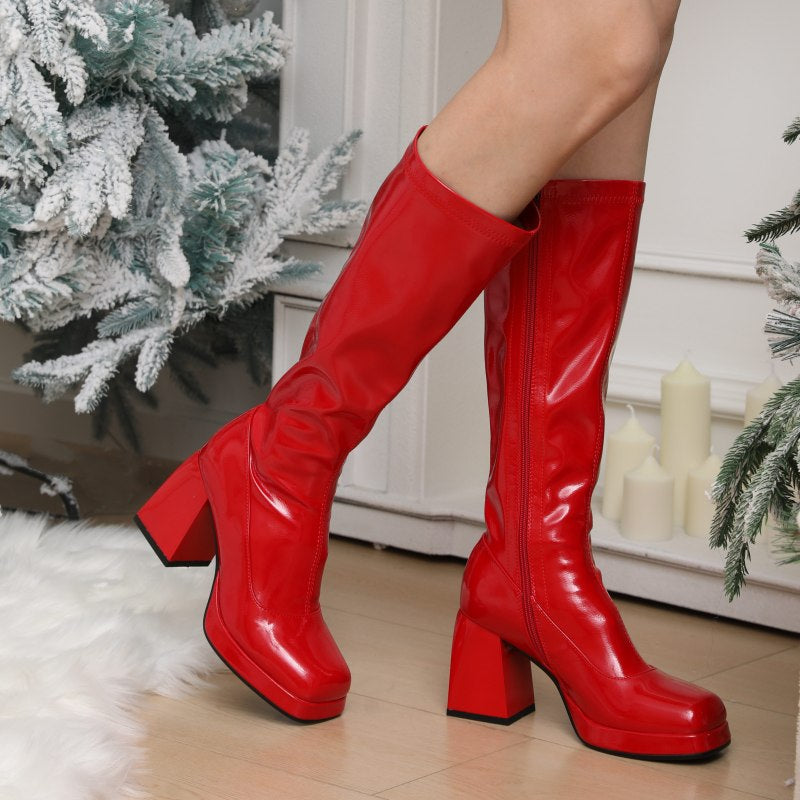 At any festive event, these boots will catch the eye as soon as you step out.
6. Sparkling Rhinestone Boots
You're going to a dinner party with friends or family, and everything sparkles under the glittering lights, especially things with rhinestone and sequin elements. If you want to add some flair to your holiday outfit, rhinestone boots are the way to go. A pair of rhinestone boots will make you shine like a star, catching everyone's attention and making every step you take seem like a walk in the fashion show.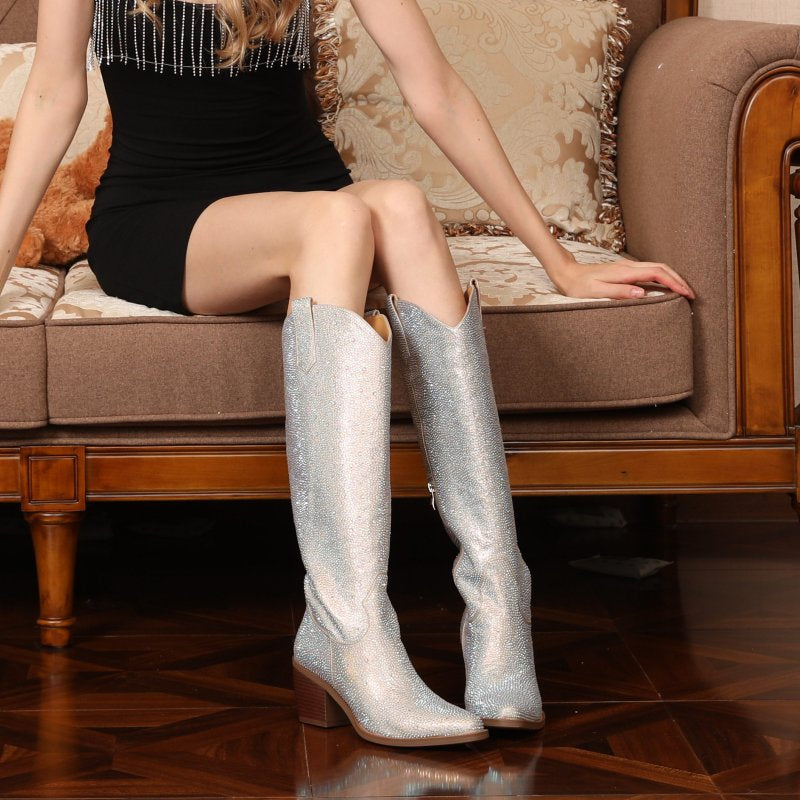 Simply pair them with a little black dress or a sequined skirt for an unforgettable overall look.
Remember, Christmas is a time to have fun with your fashion choices. Don't be afraid to experiment with different styles and colors. With these types of boots in your wardrobe, you'll be ready to conquer any Christmas occasion with style and confidence. And to choose boots that not only match your outfit but also provide comfort and functionality. Happy holidays and happy boot shopping!